11 janvier 2012
3
11
/

01
/

janvier
/

2012
19:20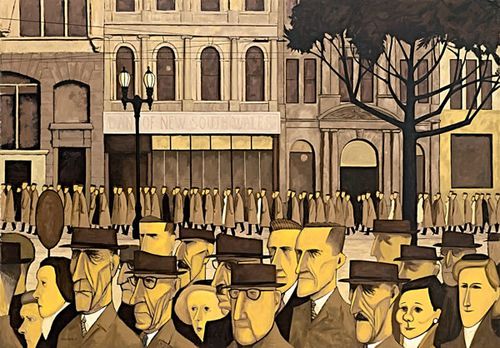 Collins St. 5 pm by John Brack
Picture analysis
John Brack (1920-1999) was an Australian painter, drawer and printmaker. Brack composed the oil on canvas Collins St. 5 pm in 1955. He has been recognised as one of Australia's greatest twentieth century painters and his works have been greatly appreciated amongst the modern society of Australia. Collins St. 5 pm depicts the atmosphere of the central business district in Melbourne, Australia at 5 pm.
This painting portrays a valued image of the "urban lifestyle in Australia' through the use of color, repetition and structure of the painting.
The first technique used is the colors, which are alike and quite dull. The expressions on these workers faces are sharp, motionless and they all face the same direction. This creates a sense of urgency and importance to where they are headed. Brack developed this technique in his painting to show that the workers were heading in only one direction, home at 5 pm.
Another technique that Brack has cleverly used in his artwork is the use of repetition. This is seen throughout the piece and creates the illusion of a crowded atmosphere in the city life. From the repetition of the background commuters, the coats, hats and clothing in general are all alike. The windows, which are also repeated in several different patterns, have been aligned in such a way that creates structure and unity to this piece. In doing so, the repetition portrayed in Brack's work also reflects the repetition of the daily nine to five work hours of a person living in a big city. Just like the technique, the Brack wants to reflect on how these businessmen/women go about their work days, repeating the same things over and over, five days a week.
The third technique that used by John Brack is the structure. As seen in his composition, the use of horizontal lines, sharp edges, elongated shapes create a sense of order in his artwork. Vertical lines are also seen in this piece, portraying an organized, structural frame of the landscape.
Overall, success in John Brack's Collin St. 5 pm can be seen through the broad range of visual techniques. All three uses of colour, structure and repetition are of equal importance, helping to create a reflection of urban Australia.